COVID-19 Response
Hartley's Crisis Management Team (CMT) is currently reviewing the COVID Response Plan released by the ACT Government. Details of this plan can be found below. At this stage there is no new information that will drastically change Hartley Lifecare's current service delivery regarding COVID-19.
The nature of COVID-19 means that we must remain flexible and readily able to respond to the changing circumstances of the pandemic. That's why, there will be a number of check points along the way so that each stage of the easing of restrictions can be assessed before moving to the next, ensuring the health and safety of our clients and the community.
To date, our COVID-19 Response Plan (Version 1) has served us well and provided us with clear strategies to guide us through the past 4 months. Moving forward, to ensure that the information, advice, protocols and facts provided to our clients, staff, volunteers and other stakeholders about COVID-19 is accurate, current and in accordance to the latest government and medical advice, Hartley's Crisis Management Team have now updated its COVID-19 Response Plan and have launched Hartley's COVID-19 Response Plan (Version 2).
Please refer to this page for the latest news, updates and information regarding Hartley's response to the COVID-19 Pandemic.
You Can Help Us
We're grateful to all our Hartley Stakeholders who donates their time and resources.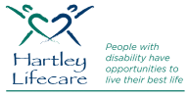 Established in 1962, Hartley Lifecare (Hartley) is a Canberra-based not-for-profit organisation providing supported accommodation for people with disability, their families and carers. Originally established to provide a learning facility and therapy support service for children and adults, Hartley has grown extensively to support clients in over 30 homes across the ACT. Over the last six decades, families have grown to rely on and trust Hartley to deliver high quality, person centred support.
Follow Us