Jackson, Dan and Ben have been living in the intentional community with their co-residents and housemates since 2013. The community was opened by Her Excellency The Honourable Quentin Bryce, Governor-General of the Commonwealth of Australia, on 20 May 2013. So how is it all going?
It is thriving. We have exiting members, new members, friends and family who continue to support each other through social events and get-togethers. Jackson, Dan and Ben are happy in their homes with co-residents and other wonderful support workers.
One way to see how it is going is to check our the two year anniversary photo book, which chronicles the community. You can also see how it was going at the 12 month mark by watching ABC Canberra's "7:30" report on the project, which aired on 25 July 2014.
There is also a book which Sally and her son Tim wrote, which explains Benambra's history, structure, unique features and benefits. Click here to find out more about the book.
To download the book, please get in touch. The book has been purchased by individuals and organisations from all over Australia and has gone to the United Kingdom and the USA.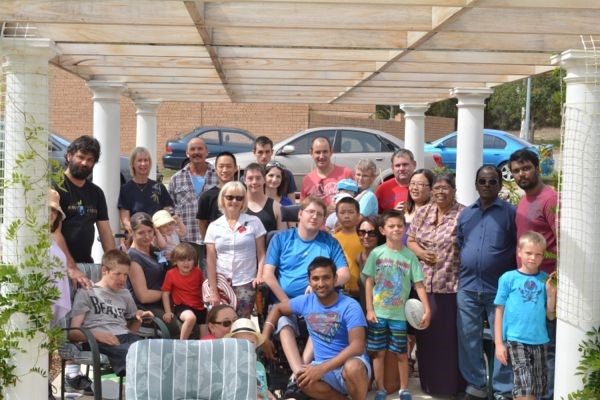 Building Community
The community is working well. The events we hold help forge relationships and friendships. Not only do the intentional community members attend the various celebrations, working bees, meetings and musical afternoons but some families from the other non-intentional part of the community have also been involved in several of the events. They are always invited and very welcome as our aim is to build a solid, friendly, helpful community of residents and their friends and families who all know and support each other.
The best way to see how the community is growing is to check out the 6 years on story and the latest news articles, but here is more detail about some of the gatherings.
A community that works and eats together builds together
We have had many working bees for weeding, raking, sweeping, pruning, general tidying and handyperson work such as putting up trellises. Clean up Australia Day is another opportunity to take pride in our local communtiy. These are often followed by a bbq and socialising.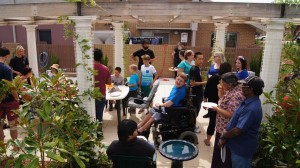 Music at Benambra
Many music gigs have been held at Benambra by a variety of residents, and local artists and musicians.
We would love to keep music happening and the place jumping.
If you know of any musicians who would like to play Benambra, then send them our way
Traditional Celebrations
We have had many wonderful Christmas and Easter celebrations and some less traditional ones with Halloween being a great hit with the children.
Good Neighbour Day is full of the joy of having good neighbours and there have been countless barbeques and afternoon teas.
Politicians and ACT Housing
We have had a very productive and supportive relationship with local politicians and the ACT Department of Housing.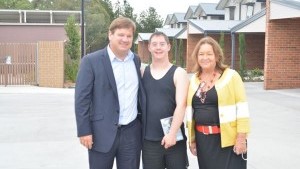 Recognition
The ACT Government Community Services Directorate (CSD) which funded and built the development was recognized by the ACT Real Estate Institute in 2013. The development was awarded the Judges' Special Recognition for Community Service Award which was specially created for 2013. Sally and staff from the CSD were there to claim the prize.
The development was nominated for a Master Builders Award 2014.
The ACT Government Community Services Directorate (CSD) was nominated for an ACT Inclusion Award for the intentional community.
Workshops, Reference Groups and Conferences
Karen and Sally have been busy promoting the community and spreading the word. Below is a truncated list of some of the promotional work they have done.
Spoken or presented at:
The National Housing Conference, Adelaide

The ACT Downs Syndrome dinner, Canberra

The Administrative Appeals Tribunal, Sydney

The Department of Health and Aging Gala Ball and Dinner, Canberra

Hartley Lifecare's Challenge dinner and presentation, Jindabyne

The ACT Housing Joint Champions Group

Disability ACT's meeting for parents on transition planning

The Equity and Diversity Committee (members from Department of Premier & Cabinet, Treasury & Public Service Commission), Sydney

Imagine More Conference, Canberra

Manningham Inclusive Community Housing, Melbourne

Belonging Matters full day workshop, Melbourne
Been interviewed:
By Professor Jill Franz from the Queensland University of Technology

On the Richard Fidler program on Radio National
Met with:
Executives from the Illawarra Retirement Trust, one of Australia's largest community based seniors lifestyle and care providers

Families of the ACT interested in the intentional community model of supported accommodation

Executives from Araluen Victoria which provides accommodation and day services to adults with an intellectual disability
On the panel of:
The ACT Innovative Housing Units advisory group
Written articles for:
ACTCOSS Newsletter on Co-Design of the Intentional Community.

Housing ACT June newsletter.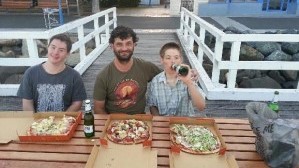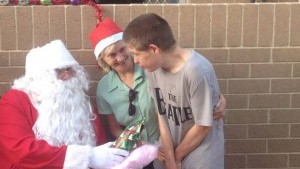 Where To From Here?
More of the same. More music, more barbeques, more gatherings, more working bees, more fun, more laughter, more meetings and greetings, more help, more smiles, more celebrations, more sharing of herbs and resources and time.
Jackson, Dan and Ben
Jackson, Dan and Ben are happy in their new homes and thriving in their new community. The Community Residents provide the following list when asked why they chose to live at Benambra and what they like about Benambra:
Could see the joy in the community

The close connection between the members, safe, peaceful

The inclusiveness of the community

Support around the three men

Have found a better life

Love being involved

Closer connection to people

Create a better life and good friends

Feel safe and a safe environment for children

A way of ensuring people with a disability are part of a community

Friendships and involvement in people's lives

Love the community and the friends

Dan, Jackson and Ben remind me of what is important

Like how Dan, Jackson and Ben are supported

Everyone is friendly

Love the social aspect

Fun to be involved and contribute

Have a good life