Our History
Hartley Lifecare was established in 1962 to support children and young adults living with a physical disability, to help them maximise their life potential. Originally formed to provide a learning facility and therapy support service at The Canberra Hospital, we quickly grew to meet the growing needs of the many children with disabilities and their families through a residential and respite service. Hartley forged ahead providing a range of much-needed services that were at the time, not available elsewhere in the ACT.
Our first facility, known as Hartley House, was located in the inner-north suburb of O'Connor. In 1984, a complex of three purpose-built houses known as Hartley Court, were completed to meet the growing demand of supported accommodation services. Today Hartley Court, located in Hughes, provides 24-hour centre based specialised accommodation and long-and short-term respite care in a 'home-away-from-home' environment.
Families learned they could rely on Hartley Lifecare and our disability services. We have subsequently expanded again and now operate a number of residential facilities in the ACT including a house in Fisher designed to support people with an acquired brain injury. More recently we have integrated the National Brain Injury Foundation (NBIF) with Hartley Lifecare.
Our main office located in Pearce was opened on 3 November 2011 and includes a purpose built training room. This facility provides a more efficient
1962
Parents of people with high and complex disabilities come together - the Handicap Council was formed
1965
Name changed to ACT Physically Disabled Rehabilitation Association
1966
Registration of Children & Adults Physically Incapacitated Association Inc
1969
Amalgamated with ACT Spastic Centre Council & Crippled Childrens Society
1972
Registration of name ACT Society for Crippled Children Inc
1973
Hartley Street Centre school opens as part of Turner primary school, purpose built centre with a therapy pool, offering education, physio and occupational therapy
1975
Name changed to ACT Society for Physically Handicapped Children Inc
Queen of Canberra Quest starts as new fundraising event
1976
Hartley House established in O'Connor
1984
Hartley Court opens in Hughes
1987
Commencement of Hartley Hall Markets
1990
Kent Street house established as an administration office
2000
Change of name to Hartley Lifecare and change in strategic direction
First Cycle Challenge event
2005 -2010
2010 Hartley takes on the support for five houses
2006
Outreach program started
Assistive Technology Program started
2007
Hartley opens a new facility to support people with Acquired Brain Injury
2011
New administration office established in Pearce
2012
Increase in respite support
2013
Hartley becomes part of the Intentional Community
2014
Integration of National Brain Injury Foundation into Hartley Lifecare
2015
Transition of houses from Disability ACT
- 9 Houses
- 35 new clients
2016
Pinkerton Street house opens
Successful transition of all nine Disability ACT houses to Hartley Lifecare
You Can Help Us
We're grateful to all our Hartley Stakeholders who donates their time and resources.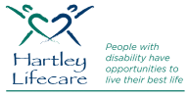 Established in 1962, Hartley Lifecare (Hartley) is a Canberra-based not-for-profit organisation providing supported accommodation for people with disability, their families and carers. Originally established to provide a learning facility and therapy support service for children and adults, Hartley has grown extensively to support clients in over 30 homes across the ACT. Over the last six decades, families have grown to rely on and trust Hartley to deliver high quality, person centred support.
Follow Us