Volunteering Opportunities
Do you want to achieve something meaningful with your extra time? Do you have valuable skills and experience that could help us?
Hartley Lifecare has a range of interesting and rewarding opportunities for volunteers in our programs, services and fundraising activities.
Whether you have an hour or two to spare, or more, let us know if you'd like to help us make a difference to people with physical and complex disabilities.
About Hartley

You Can Help Us
We're grateful to all our Hartley Stakeholders who donates their time and resources.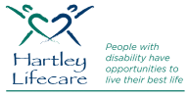 Established in 1962, Hartley Lifecare (Hartley) is a Canberra-based not-for-profit organisation providing supported accommodation for people with disability, their families and carers. Originally established to provide a learning facility and therapy support service for children and adults, Hartley has grown extensively to support clients in over 30 homes across the ACT. Over the last six decades, families have grown to rely on and trust Hartley to deliver high quality, person centred support.
Follow Us