People with disability have opportunities to live their best life
A Sustainable Future 2020-2023
At such a critical point in Hartley Lifecare's journey, the board of directors, on behalf of our clients, families, staff, volunteers and members, are delighted to share Hartley's vision for the next 3 years through its new Strategic Plan, titled 'A Sustainable Future'.
You Can Help Us
We're grateful to all our Hartley Stakeholders who donates their time and resources.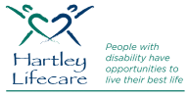 Established in 1962, Hartley Lifecare (Hartley) is a Canberra-based not-for-profit organisation providing supported accommodation for people with disability, their families and carers. Originally established to provide a learning facility and therapy support service for children and adults, Hartley has grown extensively to support clients in over 30 homes across the ACT. Over the last six decades, families have grown to rely on and trust Hartley to deliver high quality, person centred support.
Follow Us