HARTLEY CYCLE CHALLENGE 2020
A New Journey
The 21st annual hartley Cycle Challenge will be held from Friday 20 to Sunday 22 November 2020.
Day 1: Friday the 20th - Cooma to Jindabyne
Day 2: Saturday the 21st - Jindabyne to Charlotte's Pass
CEO's Challenge: Saturday the 21st of November 2020
Day 3: Sunday the 22nd - Jindabyne to Cooma
HARTLEY HALL MARKETS
The Hartley Hall Markets, organised by Hartley Lifecare, are one of Australia's largest home-made and home grown goods markets.
Held on the 1st Sunday of Every Month (except January) from 10am – 3pm at the Hall Showground Hall, The Hartley Hall Markets are one of Canberra's favourite and most vibrant weekend market.
Visit the Hartley Hall Markets webpage for more information.
#HARTR8 FOR HARTLEY 2020
Hartley, in partnership with our participating gym partners, are excited to introduce our brand new online fundraising fitness challenge.
The online platform will allow you to set up your #HARTR8 profile page, choose from 4 different fitness target categories, link your new page to your Strava and Social Media Accounts, and begin your fundraising efforts.
HARTLEY HIGH TEA
Started in 2018, The Hartley High Tea is fast becoming one of Canberra's favourtie 'feel good' events.
Held in August at Albert Hall each year, the event is great change to dress up and have a fantatsic time for a good casue.
Unfortunately in 2020, we have been forced to postpone the event until November due to COVID-19.
Please stay connected and keep an eye out for this years date and theme.
You Can Help Us
We're grateful to all our Hartley Stakeholders who donates their time and resources.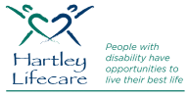 Established in 1962, Hartley Lifecare (Hartley) is a Canberra-based not-for-profit organisation providing supported accommodation for people with disability, their families and carers. Originally established to provide a learning facility and therapy support service for children and adults, Hartley has grown extensively to support clients in over 30 homes across the ACT. Over the last six decades, families have grown to rely on and trust Hartley to deliver high quality, person centred support.
Follow Us